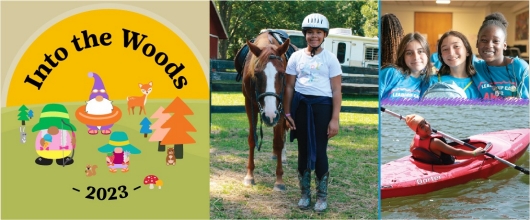 Summer Resident Camp
Summer Camp Registration Opens February 11th!
Girls sing songs like rock stars by the campfire, swim like fish in the lake, and channel their inner-outdoor adventurer when attending Girl Scout summer resident camp.
Whether she's looking for a week of adventure or a day of exploring, we've got you covered. Horseback riding, swimming, learning to surf or sail, crafting, hiking the Appalachian Trail and much, much more – there is something that shows every girl she can shine.
Our three amazing resident camps located in Johnston, Vance, and Beaufort counties offer unique experiences and are special places where girls create memories that will last a lifetime.
Girl Scout Camp is not only about gaining outdoor skills and friendships - it's about helping girls discover who they are and exploring the world around them. At camp girls realize that anything is possible…and that their next great adventure is just around the corner.
Summer Resident Camp Registration opens Feb. 11, 2015! Be sure to read our Summer Fun Guide to plan your next great adventure with Girl Scouts!
Bring a Buddy Program
It's back and better than ever! We know you're WILD about camp and when you share how awesome Girl Scout summer camp is with a friend you'll earn some pretty fun rewards!
This year, each Girl Scout who has a new buddy (non-Girl Scout) sign up and attend summer resident camp will earn:
1 New Buddy = Special Edition "Buddy T-shirt" and an 8x10 lamented buddy photo for each of you.
3 or More New Buddies = Special Edition "Buddy T-shirt", an 8x10 lamented buddy photo for each girl, and a limitied edition camp blanket for the referring Girl Scout.