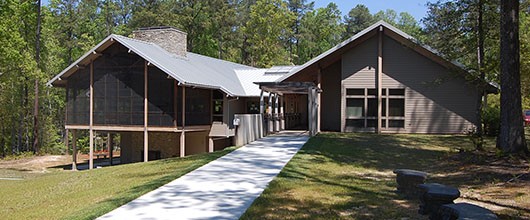 Rent Our Facilities
Girl Scouts - North Carolina Coastal Pines troops and groups can reserve a campsite at one of our four camps for year-round camping. Refer to our Camp Manual for more information and use the link below to reserve your campsite. Troops going overnight camping must be accompanied by at least one adult who has successfully completed Outdoor I and II trainings and at least one adult who is qualified to render First Aid.  Reserve your campsite!
First time using our reservation system? Read our reservation guide that includes how to apply for the use of a Council campsite! 
Troop Room at the Raleigh Service Center
Troops can also rent the Troop Room at the Raleigh Service Center. Outfitted with a kitchen, meeting room, bathrooms and shower facilities, it's the perfect place to start your adventures in the capital city. Complete your reservation today!
Not sure which camp to rent or what's available? Explore our camps to learn more!

Rent Camp Graham
| | |
| --- | --- |
| Facilities Available | Program Equipment Available |
| Dining Hall | Archery |
| Commercial Kitchen | Sailing |
| Staff House | Canoeing |
| Whippoorwill Tent Unit | Kayaking |
| Kay McGavran Primitive Tent Unit | Waterfront for swimming |
| Holly Hill Cabin Unit | Low Ropes Course |
| Trailblazer Cabin Unit | Gaga Pit |
| Cardinal Cove Tent Unit (Staff Tents) |   |
| CIT Cabin |   |
| Encampment Field |   |
| Cloverfield Treehouse Unit  |   |
| Brightleaf Program Shelter (Cloverfield Unit) |   |
Rent Camp Hardee
| | |
| --- | --- |
| Facilities Available | Program Equipment Available |
| Rotary Lodge | Archery |
| Cabin 1 | Swimming Pool |
| Crisp Cabin | Canoeing |
| Cabins 2-5 | Kayaking |
| Cabin 6 | Waterfront |
| Cabins 7-10 |   |
| Craft & Davenport Shelters |   |
|   |   |
Rent Camp Mary Atkinson
| | |
| --- | --- |
| Facilities Available | Program Equipment Available |
| Leadership Center | Archery |
| Commercial Kitchen | Canoeing |
| Program Building & Craft Shelter | Kayaking |
| Staff House | Paddle Boards |
| Fox Leap Tent Unit | Waterfront (Swimming & Fishing) |
| Lady Slipper Tent Unit | Swimming Pool |
| Owl Hollow Cabin Unit | Alpine Tower/Climbing Grotto |
| Raccoon Loft Cabin Unit | Gaga Pit |
| CIT Tents |   |
| Encampment Field |   |
Rent Mu-Sha-Ni
| | |
| --- | --- |
| Facilities Available | Program Equipment Available |
| Chalfant Shelter | Archery |
| Troop House | Canoeing |
| Turkey Hollow Tent Unit | Hiking Trails |
| Spotted Fawn Tent Unit | Beaver & McBride's Ponds |
| Painted Tree Tent Unit |   |
| Fox Squirrel Den Tent Unit |   |
| Red Bird Tent Unit |   |
| Blue Bird Tent Unit |   |
| Encampment Field |   |