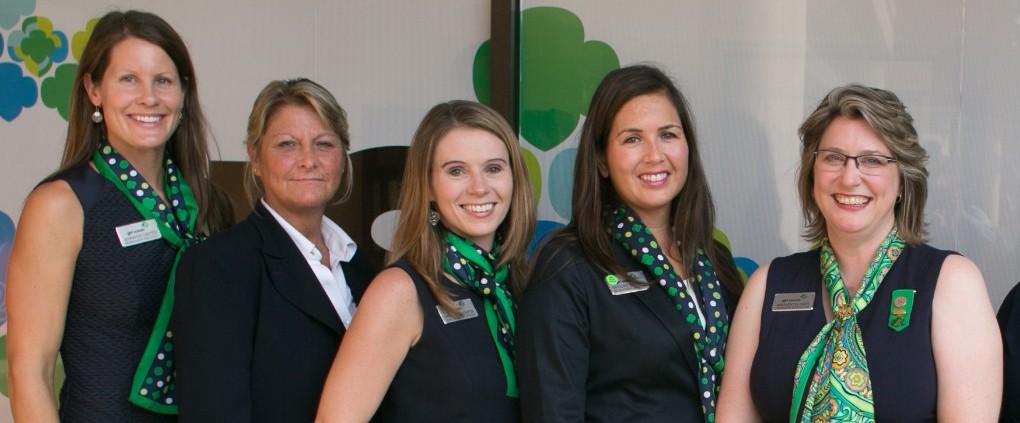 Careers
Want a rewarding career where YOU can make a difference? Join our Girl Scout team! Click to learn more about each of our available positions.
Camp and Outdoor Program Director
Director of Individual Giving
Full Time, Raleigh Service Center
We're looking for a passionate development professional with a proven record of solicitation of individuals, who is ready to transition their focus to support the premier leadership experience for girls! If you're a great listener – if you can picture yourself sharing with community members  the importance of female leadership – if you're a strategic thinker and a goal setter – if you like working for an organization that values your professional development and leadership – then this is the next step for you!
As a member of the Fund Development team, The Director of Individual Giving will design and implement cultivation, stewardship, and solicitation efforts for the Council's individual giving program, including:
Holding a portfolio of prospective donors, conducting research to identify new prospects, and developing and executing strategy to reach out to those prospects and donors
Partnering with Development Executive, CEO, and Director of Corporate Giving to ensure prospects and donors are moving through the solicitation pipeline, and monitoring, reporting on, and analyzing these efforts for the team
Partnering with the Council's Fund Development and Communications teams to ensure that design and implementation of direct response communication and fundraising tools (direct mail, email, web site, social media) will inform, engage, connect and solicit donors and prospective donors to the Council to achieve fundraising goals
Establishing a presence in the community to increase the Council's visibility
The perfect candidate will have experience in direct solicitation of individuals and in management of a portfolio of donors, excellent written and oral communication skills – especially listening skills, and an ability to make a case for support in a one-on-one setting. Candidates should possess a bachelor's degree and a minimum of five years of fundraising experience.
This position is full-time, based out of our Raleigh office, and salary is commensurate with experience. To apply, email a cover letter, resume, salary requirements, and references to donate@nccoastalpines.org. Ideally, this position would start early to mid-January, but applications will be accepted until a great fit is found.
Membership Director
Full-Time, Multiple Locations
The Membership Director is a full-time position responsible for implementing recruitment, retention and development processes through various membership initiatives directed at Girl Scouts including projects in underrepresented areas. This role will provide direct support and guidance to current Girl Scout troops as well as develop specific initiatives that support specific county areas and North Carolina Coastal Pines council wide goals.
Additionally, the Membership Director oversees teams of volunteers who work in partnership to accomplish the council mission and with the Recruitment Director to grow membership, as well as cultivate community partnerships. Individual should have excellent communication and presentation skills, customer service and supervisory experience, strong human relation and networking skills, and the ability to manage multiple on-going projects in a fast pace, diverse environment. Comfortable and fluent computer skills a must.
Qualifications include Bachelor's degree and equivalent experience; Girl Scout experience is a plus, but not required. Evening and weekend work required. Competitive salary, commensurate with experience, and excellent benefits. 
Moore and Chatham Counties: This position is full-time and utilizes our Southern Pines office. To apply, email a cover letter and resume to Jennifer Carter, Membership Executive, byDecember 11, 2015.
Bladen, Columbus, and Robeson Counties: This position is full-time. To apply, email a cover letter and resume to Jennifer Carter, Membership Executive.
Camp and Outdoor Program Director
Full Time, Choice of Locations
We're looking for a Camp and Outdoor Program Director who can reside and direct at our Johnston County camp property during the summer season (June – August) and provide support for our troop camping and outdoor education programs throughout the rest of the year (September – May).  The perfect candidate is a creative, organized self-starter with previous camp leadership experience and strong interest in helping providing programming in a girl centric environment.  Girl Scout experience is preferable, but not required. A Bachelor's Degree, working knowledge of ACA (American Camp Association) guidelines and experience in recruiting, training and supervising staff is desired.
In addition to directing resident camp, the Camp and Outdoor Program Director is responsible for supporting and retaining adult volunteers and girl members by providing, developing and delivering camp and outdoor education program resources, as well as developing and maintaining partnerships to assist volunteers in their work with girls throughout our 41-county footprint.  The Camp and Outdoor Program Director will be responsible for the development, coordination and delivery of quality programming including events, curricula, and additional resources in alignment with the Girl Scout Leadership Experience related to outdoor programming and training.  Frequent evening and weekend work required.
This position is full-time, exempt and may be housed in either the Fayetteville Service Center, Goldsboro Service Center or Camp Mary Atkinson outside of the summer resident camp season. To apply, email a cover letter, resume and references to Keli Diewald, Camp Program and Outdoor Education Executive.
Community Outreach Specialist
Part Time, Temporary - Multiple Locations
Girl Scouts North Carolina Coastal Pines is looking for an energetic, fun and creative individual who relates and understands the development needs of youth and who enjoys working with girls. As a programming assistant you would be responsible for the development and implementation of age appropriate programs designed to build leadership, self-esteem, assist girls in developing new skills, and promote team building. Must be able to work with upwards of 20 girls at a time and ensure their safety by enforcing appropriate safety regulations and emergency procedures. Applicants must be a high school graduate and have reliable transportation. Experience working with children is a must. EOE. 
Retail Associate
Part-Time, Raleigh Service Center
Girl Scouts North Carolina Coastal Pines is looking for friendly , creative, motivated people to fill the Retail Shop Associate position in our Raleigh location. Hours vary from 12-19 hours per week.
Qualifications include high school diploma, retail/office experience, customer service skills, data entry, and web skills. Dependability and accuracy is a must. Duties include: sales, receiving shipments, and some travel.
Must be at least 18 years old
Excellent communication skills are essential
Must be able to work DAY SHIFT and weekends as necessary
Must be able to pass background check
Must be flexible and able to work evenings