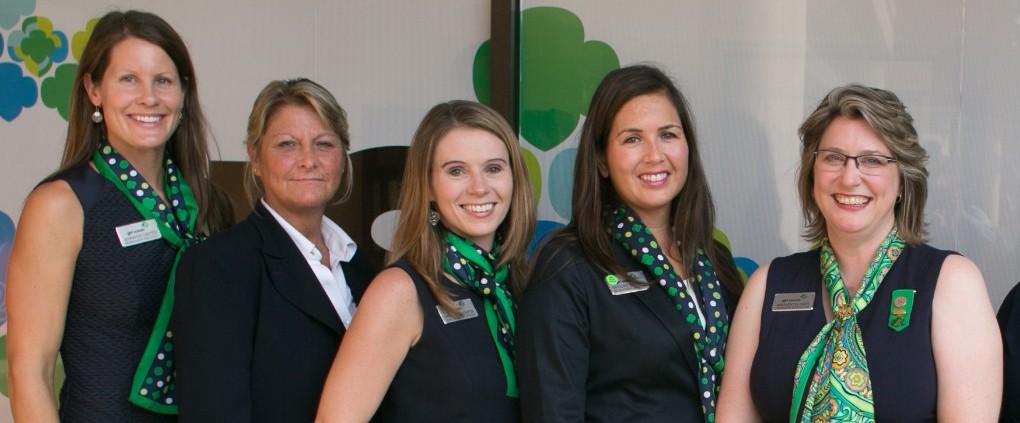 Careers
Want a rewarding career where YOU can make a difference? Join our Girl Scout team! Click to learn more about each of our available positions.
On-Site Seasonal Camp Director
Membership Director
Full-Time, Multiple Locations
The Membership Director is a full-time position responsible for implementing recruitment, retention and development processes through various membership initiatives directed at Girl Scouts including projects in underrepresented areas. This role will provide direct support and guidance to current Girl Scout troops as well as develop specific initiatives that support specific county areas and North Carolina Coastal Pines council wide goals.
Additionally, the Membership Director oversees teams of volunteers who work in partnership to accomplish the council mission and with the Recruitment Director to grow membership, as well as cultivate community partnerships. Individual should have excellent communication and presentation skills, customer service and supervisory experience, strong human relation and networking skills, and the ability to manage multiple on-going projects in a fast pace, diverse environment. Comfortable and fluent computer skills a must.
Qualifications include Bachelor's degree and equivalent experience; Girl Scout experience is a plus, but not required. Evening and weekend work required. Competitive salary, commensurate with experience, and excellent benefits. 
Beaufort, Martin, Northampton, and Halifax Counties: This position is full-time. To apply, email a cover letter and resume to Shawna Peaks, Membership Executive.
Lee and Harnett Counties: This position is full time. To apply, email a cover letter and resume to Jennifer Carter, Membership Executive.
Program Director - STEM Programs
Full Time, Any Service Center
We're looking for a Program Director who will champion and expand STEM (science, technology, engineering, mathematics) programs for girls. The perfect candidate is a creative, organized self-starter with event planning experience, curriculum development and strong interest in issues affecting girls. Girl Scout experience, strong interpersonal and writing skills and a STEM-related Bachelor's Degree are desired.
The Program Director is responsible for supporting and retaining adult volunteers and girl members by providing, developing and delivering program resources, as well as developing and maintaining partnerships to assist volunteers in their work with girls throughout our 41-county footprint. The Program Director will provide the development, coordination and delivery of quality program including events, curricula, and additional resources as driven by market needs. The individual will identify, cultivate and maintain program partnerships and collaborations and will recruit, train and support volunteers in effective delivery of program.
The position is responsible for delivery and oversight of girl STEM programs for grade levels K-12.  This position may require 50% travel in our 41-county footprint. Frequent evening and weekend work required.
This position is full-time, exempt and may be housed in any of our service centers.  To apply, email a cover letter with salary requirements, resume, writing samples and references to Meridith Orr, Program Executive.
On-Site Seasonal Camp Director
Part-Time, Camp Graham (Henderson, N.C.)
Girl Scouts–North Carolina Coastal Pines is seeking a Seasonal On-Site Camp Director to serve as the on-site facilitator for our summer resident camp program in Henderson, NC. Under the supervision of the Camp Program and Outdoor Education Department, this seasonal position will be responsible for the daily operation of camp, including but not limited to monitoring camp staff, serving as a liaison for troop volunteers and community partners and assuring the adherence of Safety Activity Checkpoints and American Camp Association Standards.
Preferred candidates will have experience in resident camp leadership and/or management, recreational programming and supervising staff. Knowledge of outdoor camping skills and good organizational and interpersonal skills. Candidates must have a valid driver's license and be able to successfully complete a background check.
To apply, please email cover letter, resume and references to Nephitearya Bailey, Camp and Outdoor Program Director, with the subject line "Seasonal On-Site Camp Director".
Community Outreach Specialist
Part Time, Temporary - Multiple Locations
Girl Scouts North Carolina Coastal Pines is looking for an energetic, fun and creative individual who relates and understands the development needs of youth and who enjoys working with girls. As a programming assistant you would be responsible for the development and implementation of age appropriate programs designed to build leadership, self-esteem, assist girls in developing new skills, and promote team building. Must be able to work with upwards of 20 girls at a time and ensure their safety by enforcing appropriate safety regulations and emergency procedures. Applicants must be a high school graduate and have reliable transportation. Experience working with children is a must. EOE. 
Communications Director
Full-Time, Raleigh Service Center
The Communications Director plays an integral role in promoting awareness and ensuring brand consistency for Girl Scouts across central and eastern North Carolina. This role helps set and guide the overarching communications strategy and supports and oversees its implementation, ensuring effective use of the organization's voice and brand to achieve its goals.
Reporting to the Marketing and Communications Executive, the Communications Director will design and orchestrate a communication strategy that articulates the Girl Scout mission as well as integrate program-specific messaging and advocacy. He/She will determine the best mix of resources and platforms necessary to achieve key business objectives and reach targeted audiences ensuring consistent, compelling brand use, messaging, and positioning.
To apply please view the full job description and email cover letter, resume, and portfolio/writing samples to Meghan Gargan, Marketing and Communications Executive.
Camp Ranger
Full-time, Camp Graham, Henderson, NC
Girl Scouts–North Carolina Coastal Pines is seeking a Full Time Camp Ranger for Camp Graham on Kerr Lake outside of Henderson, NC.  Under the direct supervision of the Property Executive, the Camp Ranger provides general maintenance and custodial services for their assigned property and assists with the maintenance of other properties as requested and under the direction of the Property Executive or Ranger/Project Manager.
Among accountabilities, the Ranger oversees the work of contractors, orders equipment and supplies, maintains vehicles, equipment and supplies, maintains water and septic systems, winterizes and opens seasonal facilities, operates tractors, mowers, chainsaws, power boats, and machinery, and performs tasks that maintain buildings in a safe, attractive, and livable condition at all times.
The preferred candidate will have a high school diploma, two years' experience in construction trades, outdoor property management, or related experience, current NC driver's license, and possession of, or the ability to obtain, licenses appropriate to the site operations such as pesticide and herbicide application, waste water management, and must be able to complete a background check. 
The candidate should have the ability to interact with adults and children in a positive and supportive manner, be cognizant of the Girl Scout Resident, Day and Troop Camping Outdoor Programs, and knowledgeable of the outdoor environment, and all pertinent regulations relative to camp operations, facility management, and Girl Scout program.
This position requires the incumbent to live on site to provide 24 hour emergency coverage, securing camp from trespassers, vandals, or other unauthorized persons.
To apply, please email a cover letter, resume, and salary requirements to John Braun, Property Executive.
IT Help Desk Technician
Full-time, Raleigh, NC
Have the gift of troubleshooting problems with computers and other technology?  Do people find you positive, dependable, and a go-getter?  Are you always willing to learn new things?  Are you as patient with people as you are computers?  If so, then this may be the job for you! 
We are in need of an Information Technology Help Desk professional that will help to ensure that computer problems don't unnecessarily interfere with user productivity and fulfilling our mission.  This person will provide their experienced know-how in guiding users and fixing hardware, software, and communications related issues in a timely manner.  This position requires a high level of comfort providing both on-site and remote technical support to users. Performing regular maintenance, software updates and hardware updates is a core task. This person must possess a comprehensive understanding of Microsoft Office 2013 & 2016, Windows 7, 8.1, 10 Pro and some technical knowledge of Apple OS.  Strong customer care skills and the ability to work independently and as a team member are important.  A more detailed job description can be found at the link below.
Minimum qualifications include a High School Diploma and at least 2 years of providing Tier 1 and some Tier 2 computer support in a professional full-time environment.  Some in state travel is required. Reliable transportation is required.  Must successfully pass a background check.
To apply, submit your application including a cover letter and resume through the online application system. No emails please.
Fund Development Intern
Part-time, Raleigh, NC
Working with our development department, the intern will be responsible for assisting with the overall fundraising and development related efforts of the Fund Development team, including grant writing, reporting and stewardship efforts, general support for the team, and helping to execute our 100th anniversary fundraising gala in September.
This position is ideal for an entry-level professional or current student looking to learn about nonprofit fundraising while gaining experience in a professional setting. Based out of the Girl Scouts Raleigh Service Center, this position is part-time, non-exempt (10-15 hours per week). This internship is paid and is dependent on experience and availability.
We have an immediate need to fill a summer position lasting until August or September. The opportunity to extend through the fall and/or spring is available. Applications for fall/spring internships will also be accepted. Please indicate your availability dates/preference in your cover letter and include your resume and references and send to Melissa Spill, Outcomes Management and Development Programming.