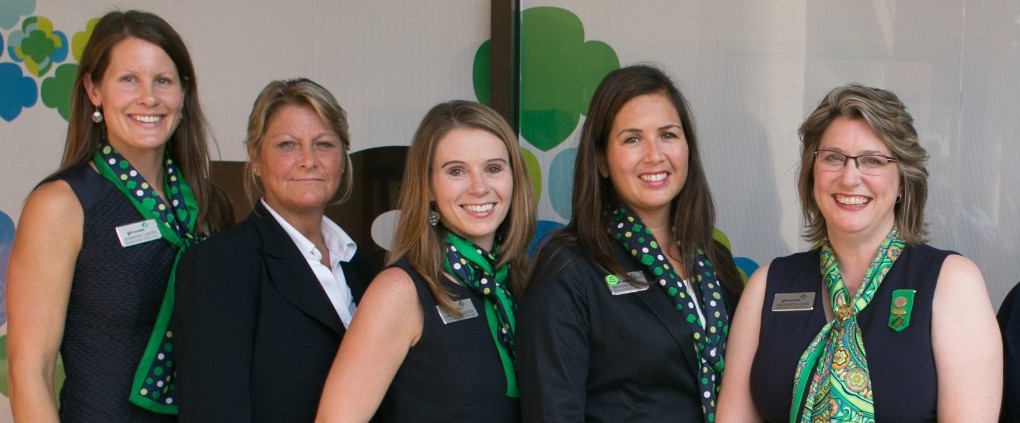 Careers
Membership Director
Full-Time, Multiple Counties
The Membership Director is responsible for developing strategy and executing set objectives to increase girl and adult membership through effective recruitment and retention. The Membership Director demonstrates strong leadership skills in ensuring a robust infrastructure is in place for the delivery of high quality Girl Scout programs in the community through volunteers. The Membership Director also mentors and shares expertise on strategies and tactics with volunteers and staff.
Additionally, the Membership Director oversees teams of volunteers who work in partnership to accomplish the council mission and with the Recruitment Director to grow membership, as well as cultivate community partnerships. Individual should have excellent communication and presentation skills, customer service and supervisory experience, strong human relation and networking skills, and the ability to manage multiple on-going projects in a fast pace, diverse environment. Comfortable and fluent computer skills a must.
Bachelor's degree and equivalent experience in related field preferred. Girl Scout experience is a plus, but not required. Evening and weekend work required. Competitive salary, commensurate with experience, and excellent benefits. Candidates must satisfactorily pass the E-Verify Employment Verification and a criminal background check. EOE.
Onslow and Jones Counties: To apply, email a cover letter and resume to Jennifer Carter, Membership Executive.
Community Outreach Specialist
Part Time, Temporary - Multiple Locations
Girl Scouts North Carolina Coastal Pines is looking for an energetic, fun and creative individual who relates and understands the development needs of youth and who enjoys working with girls. As a programming assistant you would be responsible for the development and implementation of age appropriate programs designed to build leadership, self-esteem, assist girls in developing new skills, and promote team building. Must be able to work with upwards of 20 girls at a time and ensure their safety by enforcing appropriate safety regulations and emergency procedures. Applicants must be a high school graduate and have reliable transportation. Experience working with children is a must. EOE. 
Carteret, Craven, and Pamlico Counties: Contact Laura Lee Davis
Chatham and Moore counties: Contact Kristan Shimpi
Johnston County: Contact Carolyn Carroll
New Hanover County: Contact  Debbie Todd
Robeson County: Contact Keri Carelas
Wake and Durham counties (bi-lingual candidates): Contact Shawna Peaks 
Wayne County: Contact Terrica Hay
IT Help Desk Technician
Full-time, Raleigh, NC
Have the gift of troubleshooting problems with computers and other technology?  Do people find you positive, dependable, and a go-getter?  Are you always willing to learn new things?  Are you as patient with people as you are computers?  If so, then this may be the job for you! 
We are in need of an Information Technology Help Desk professional that will help to ensure that computer problems don't unnecessarily interfere with user productivity and fulfilling our mission.  This person will provide their experienced know-how in guiding users and fixing hardware, software, and communications related issues in a timely manner.  This position requires a high level of comfort providing both on-site and remote technical support to users. Performing regular maintenance, software updates and hardware updates is a core task. This person must possess a comprehensive understanding of Microsoft Office 2013 & 2016, Windows 7, 8.1, 10 Pro and some technical knowledge of Apple OS.  Strong customer care skills and the ability to work independently and as a team member are important.  A more detailed job description can be found at the link below.
Minimum qualifications include a High School Diploma and at least 2 years of providing Tier 1 and some Tier 2 computer support in a professional full-time environment.  Some in state travel is required. Reliable transportation is required.  Must successfully pass a background check.
To apply, submit your application including a cover letter and resume through the online application system. No emails please.
Executive Assistant
Part-time, Raleigh, NC
Seeking experienced professional to provide administrative support to chief staff.  This part-time position (20 hrs/week) requires high organization, superior written/verbal communication and excellent interpersonal skills. Provides administrative support, coordinates meetings and manages calendars and reports. Requires project coordination experience and demonstrated ability to achieve high performance goals and meet deadlines in a fast-paced environment while exercising autonomy, initiative, creativity and attention to detail.  Strong computer proficiency in Microsoft Word, Microsoft Excel and Microsoft PowerPoint and ability to design and create dynamic presentations and communication through various technologies needed. Must successfully pass a background check. Bachelor's degree or its equivalent and/or a minimum of three years of related experience desired. 
To apply, email resume, cover letter and work sample to Cindy Kelley Deaton, COO, Girl Scouts – North Carolina Coastal Pines. EOE.
Customer Care Specialist/Administrative Assistant
Part-time, Raleigh, NC
Responsibilities: provide quality customer service and support to internal and external customers. Work with customer inquiries by phone, email and in person. Produce fliers, materials, booklets and brochures and other administration duties.
Qualifications: minimum high school diploma, degree preferred; three to five years of previous customer service and office experience, including prior database experience; strong computer and data entry skills; outstanding customer service skills; dependability and attention to detail a must; Salesforce Software a plus. EOE. Fax: 919.782.2083 or e-mail Angela Bullock.