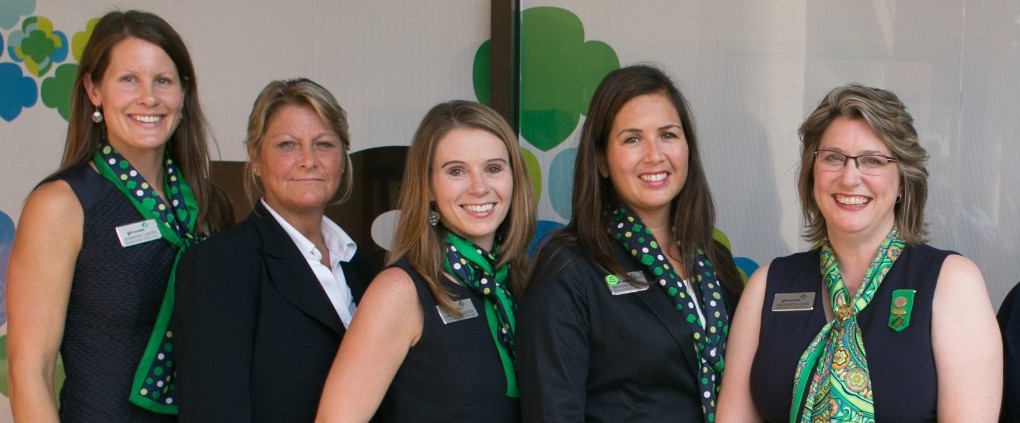 Careers
Want a rewarding career where YOU can make a difference? Join our Girl Scout team! Click to learn more about each of our available positions.
All candidates for all jobs must satisfactorily pass the E-Verify Employment Verification and a criminal background check. 
Community Outreach Specialist
Part Time, Temporary - Multiple Locations
Girl Scouts North Carolina Coastal Pines is looking for an energetic, fun and creative individual who relates and understands the development needs of youth and who enjoys working with girls. As a programming assistant you would be responsible for the development and implementation of age appropriate programs designed to build leadership, self-esteem, assist girls in developing new skills, and promote team building. Must be able to work with upwards of 20 girls at a time and ensure their safety by enforcing appropriate safety regulations and emergency procedures. Applicants must be a high school graduate and have reliable transportation. Experience working with children is a must. EOE. 
Carteret, Craven, and Pamlico Counties: Contact Laura Lee Davis
Chatham and Moore counties: Contact Kristan Shimpi
Cumberland County: Contact Njeri Fikes
Johnston County: Contact Carolyn Carroll
New Hanover County: Contact  Debbie Todd
Orange County: Contact Elaine Penny
Wake and Durham counties (bi-lingual candidates): Contact Shawna Peaks 
Wayne County: Contact Terrica Hay
Customer Care/Administrative Specialist
Full-time, Raleigh
Girl Scouts Raleigh Service Center: Responsibilities: provide quality customer service and support to internal and external customers. Work with customer inquiries by phone, email and in person. Produce fliers, materials, booklets and brochures and other administration duties. Qualifications: minimum high school diploma, degree preferred; three to five years of previous customer service and office experience, including prior database experience; strong computer and data entry skills; outstanding customer service skills; dependability and attention to detail a must; Salesforce Software a plus. EOE. Click here to apply.
Troop Start Up Specialist
Part-time, Multiple Locations
The New Troop Start Up Specialist works to successfully support the establishment of new Girl Scout Troops in a designated area through onboarding, training, mentoring and girl programming support. Working under the supervision of the New Troop Development Director and/or Recruitment Director, the New Troop Start Up Specialist secures parent participation in troop leadership roles including; Troop Co-Leaders, Troop Chaperone/Drivers and Troop Bank Account Signors. The New Troop Start Up Specialist will also ensure that all parents who are volunteering within the new troop have successfully completed registration, screening and any volunteer onboarding and training applicable to their position. 
Responsibilities
Provides programming in line with the Girl Scout Leadership Experience to members of a newly established troop for a period of four troop meetings.
Works with the New Troop Development Director and/or Recruitment Director to request a new troop bank account and other administrative needs for the new troop.
Provide EPIC customer support and follow-up with members as assigned, by problem-solving, managing, and responding appropriately to all inquiries.
Adheres to documented process to use internally for record keeping and troop support.
Shares status and progress of work with supervisor.
Perform other duties as assigned.
Qualifications
High School Diploma or equivalent.  Bachelor's degree preferred or in progress.
Membership in GSUSA and commitment to the mission and goals of Girl Scouting.
Highly-effective interpersonal communication skills and comfort communicating with different audiences in different venues.
Excellent written and verbal communication skills.
Excellent technical computer skills in Microsoft Office including Word, Excel, and Outlook and customer relationship management systems.
Ability to work with volunteers and community contacts from diverse backgrounds.
Ability to maintain accurate records and details to effectively manage multiple priorities, meet deadlines, and produce results.
Ability to work a flexible schedule, including nights and weekends.
Must be comfortable with electronic media and use the internet successfully.
Must have access to car in working order and the ability to travel; proof of meeting North Carolina state requirements regarding vehicle registration and inspection, driver's licensing and liability insurance.
Verbal fluency, good grammar and professional appearance. Bilingual Spanish is a plus.
Must be able to occasionally lift or move minimum of 25 pounds.
Preferred Skills:
Prior experience and/or knowledge of public speaking, working directly with youth and/or facilitating Girl Scout programming
Ability to adapt to change
Salesforce knowledge
Knowledge of Girl Scouts organization
How to Apply: Send resume and cover letter to...