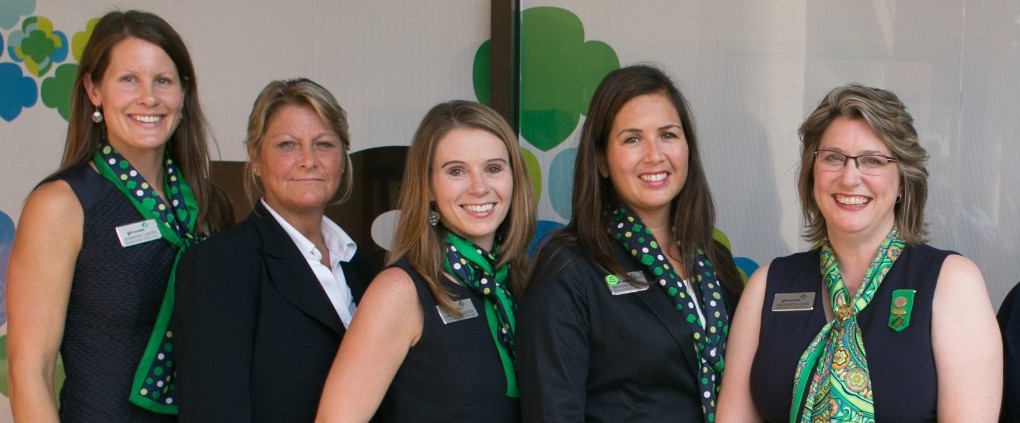 Careers
Community Outreach Specialist
Part Time, Temporary - Multiple Locations
Girl Scouts North Carolina Coastal Pines is looking for an energetic, fun and creative individual who relates and understands the development needs of youth and who enjoys working with girls. As a programming assistant you would be responsible for the development and implementation of age appropriate programs designed to build leadership, self-esteem, assist girls in developing new skills, and promote team building. Must be able to work with upwards of 20 girls at a time and ensure their safety by enforcing appropriate safety regulations and emergency procedures. Applicants must be a high school graduate and have reliable transportation. Experience working with children is a must. EOE. 
Carteret, Craven, and Pamlico Counties: Contact Laura Lee Davis
Chatham and Moore counties: Contact Kristan Shimpi
Johnston County: Contact Carolyn Carroll
New Hanover County: Contact  Debbie Todd
Robeson County: Contact Keri Carelas
Wake and Durham counties (bi-lingual candidates): Contact Shawna Peaks 
Wayne County: Contact Terrica Hay
Executive Assistant
Part-time, Raleigh, NC
Seeking experienced professional to provide administrative support to chief staff.  This part-time position (20 hrs/week) requires high organization, superior written/verbal communication and excellent interpersonal skills. Provides administrative support, coordinates meetings and manages calendars and reports. Requires project coordination experience and demonstrated ability to achieve high performance goals and meet deadlines in a fast-paced environment while exercising autonomy, initiative, creativity and attention to detail.  Strong computer proficiency in Microsoft Word, Microsoft Excel and Microsoft PowerPoint and ability to design and create dynamic presentations and communication through various technologies needed. Must successfully pass a background check. Bachelor's degree or its equivalent and/or a minimum of three years of related experience desired. 
To apply, email resume, cover letter and work sample to Cindy Kelley Deaton, COO, Girl Scouts – North Carolina Coastal Pines. EOE.
Retail Shop Associate
Part-time, Raleigh, NC
The Retail Shop Associate serves the council's retail operation and accompanying marketing and merchandising functions in an efficient manner to ensure customer satisfaction and profitability.
Responsibilities include:Selling Girl Scout merchandise to walk-in customers as well as phone, fax and mail order customers. Associate should demonstrate or describe its use to insure customers understand the correct usage of uniforms and insignia. The Associate will provide high quality services to all internal and external customers (employed staff, Girl Scout members, etc.) by portraying a positive image of Girl Scouting.
The position is a part time position, ranging from 15-20 hours each week. The Associate should be available from 9am to 5pm Monday through Friday, and will work 2-3 Saturdays per month. Associate will be responsible for opening and closing the store, processing merchandise transactions on a point of sale system. Associate should have minimum of 1 year experience in a retail or office/administrative setting. Email Laura Heaney to apply.
Placement Specialist
Part-time, Multiple Locations
Girl Scouts - North Carolina Coastal Pines is seeking an enthusiastic and energetic individual who has highly-effective interpersonal communication skills and comfort communicating with customers via email, telephone and customer relationship management systems (specifically Salesforce).
The Placement Specialist works to successfully to convert new member leads in an assigned geographic area to support membership growth. Working collaboratively with the New Troop Development Director, the Placement Specialist secures increased girl and adult volunteer participation in troops to grow membership within organization through timely follow up. The ideal candidate will have excellent written and verbal communication skills, advanced technical computer skills in Microsoft Office including Word, Excel, and Outlook and customer relationship management systems, the ability to read from a script and adapt as necessary, experience in customer service and/or a competitive sales environment and comfortable working in a fast paced, fun atmosphere. EOE.
To apply for Raleigh-based openings, email Kat Wester.
To apply for Wilmington-based openings, email Brooke Banson.